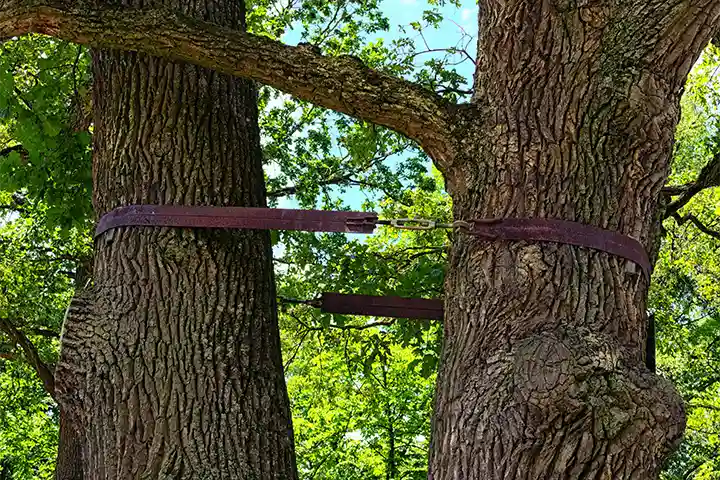 Trees are a beautiful addition to any property. They provide shade, clean the air, and offer a place to relax and enjoy nature. However, trees can also be a liability if they are not properly cared for. One of the most important aspects of tree care is maintaining the structural integrity of the tree. If your tree is leaning or the branches look unstable, professional tree cabling services may be able to help.
When you need help keeping your tree upright and sturdy, call the certified arborists at Accurate Tree Services + H&H Arborists! We offer top-notch tree bracing and cabling services that encourage structural integrity without damaging the health of your landscape. With years of local experience, advanced equipment, and spikeless tree climbing, we know exactly how to get you the best results possible. Get peace of mind about the trees on your property – call us today to schedule your consultation!
What is Tree Cabling?
Tree cabling is a technique used to support and strengthen weak or damaged trees. It involves the installation of cables and braces between tree limbs or branches to help distribute weight and reduce stress on weak areas. Tree cabling can be particularly useful for preserving trees with historical or sentimental value, as well as those with aesthetic appeal.
Cabling is typically carried out by arborists or tree care professionals and involves careful assessment of the tree's condition to determine the most appropriate method of support. Tree cabling typically uses one of two systems:
Dynamic: This type of cabling provides weak branches while still allowing movement and flexibility. Dynamic cabling is also designed to blend in for a more aesthetically pleasing result.
Static: Some trees may need more secure cabling, using stable items like steel rod tree braces. Depending on your specific tree and circumstances, our certified arborists can recommend the best approach for your property.
Need a Tree and Plant Healthcare Estimate?
Click below to leave your information and we will call you right back!
Reliable Tree Cabling Services in Madison, WI
Don't wait until it's too late to protect your trees and your property. If you have a tree that isn't looking stable, turn to the experts at Accurate Tree Services + H&H Arborists! Our ISA-certified arborists know how to create excellent tree bracing solutions that improve aesthetics and safety without causing harm to your trees. We can help install or maintain your cabling to ensure your trees always have the extra support they need to thrive. Whether you want to learn more or you're ready to schedule an appointment, give us a call today! Our friendly and knowledgeable team will be happy to answer any questions you may have and provide you with a custom quote.
Back to Tree and Plant Healthcare
Tree Cabling in the Greater Madison, WI area
Serving Dane County
Madison | Verona | Fitchburg | Middleton | Monona | Waunakee | McFarland | Sun Prairie | Oregon (WI) | Cross Plains
Stoughton | Cottage Grove | DeForest | Belleville | Mount Horeb